Food Security
Many Montanans do not have access to healthy, fresh foods and diet-related diseases are the top three causes of death in Montana. Montana Food Bank Network anticipates a 50% increase in food insecurity in the coming year and food banks across the state have experienced an increase in visits from people needing to access emergency food assistance. As food security will be an ongoing concern due to the Coronavirus pandemic, food access programs, such as Double SNAP Dollars, will be more important than ever to ensure all Montanans have access to healthy, affordable food.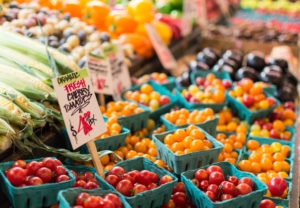 By boosting the buying power of SNAP benefits, Double SNAP Dollars provides a dignified approach for more Montanans to access the quality of food they desire and that will help their bodies thrive.
The program focuses on local food so Montana farmers gain new customers and more food dollars stay in our local economy (but also because local food is fresh, healthy, and delicious!).
As of the beginning of the 2020 farmers market season, Double SNAP Dollars is being offered at 26 sites across Montana: 22 farmers markets, two CSAs, one farm stand, and one grocery store. Since the DSD program began in 2015, over 6,000 customers have been served, leading to increased fresh fruit and vegetable consumption. During that time, $440,000 has been spent through the DSD program on local foods, boosting Montana farmers' income.
Policy Solutions:
Funding to support the statewide SNAP matching program, 

Double SNAP Dollars that incentivizes SNAP recipients to purchase Montana grown fruits and vegetables while increasing revenue for farmers.