Farm to School
Montana Farm to School connects kids with local farmers and the healthy, fresh food they produce. Farm to School expands food purchasing and education practices at schools and preschools to prioritize Montana-grown food. Farm to school implementation differs by location but always includes one or more of the following core elements:
Procurement: Local foods are purchased, promoted and served in the cafeteria or as a snack or taste-test;
Education: Students participate in education activities related to agriculture, food, health or nutrition; and
School gardens: Students engage in hands-on learning through gardening.
Research shows that students who participate in farm to school programs show an increased willingness to try new fruits and vegetables. Kids that have easy access to a variety of high-quality fruits and vegetables eat more of them. By combining increased access to local and fresh fruits and vegetables with farm to school educational activities, children demonstrate healthier nutrition behaviors.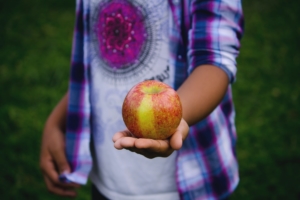 Currently, Montana Farm to School is coordinated by Montana Team Nutrition, which works in close collaboration with the Office of Public Instruction School Nutrition Program. Coordination for this program currently depends upon uncertain federal grants, and Montana lacks a full-time "Farm to School Coordinator."
Policy Solutions:
Funding mechanisms to offset school costs through appropriations, grant programs, or reimbursement structures.
Funding for a state farm to school coordinator to be housed within the Office of Public Instruction.